Barby [Ovnimoon Recs - Barby Recs] - Free Downloads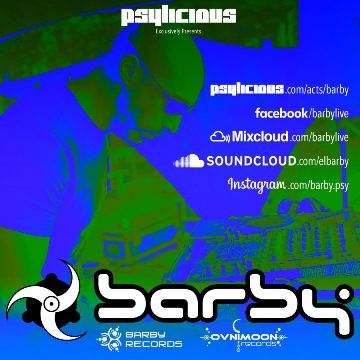 Welcome to the Barby playlist, featuring a selection of tracks from Chilean psytrance
& downtempo producer Barby.
Downloadable in WAV for your listening & DJing pleasure. Enjoy!


Listen & Download: Here


BARBY [Ovnimoon Recs - Barby Recs]
Barby is the psytrance & chillout project sculptured and launched in 1999 by one of the
first Chilean trance musicians, Ignacio Barbagelata.

Barby soon began performing and building a reputation as a trance artist, performing at
local clubs, outdoor parties, festivals, and then joining collaborative forces with Chilean
producer Ovnimoon in a collective called Psychedelic Shiva.

Barby's honed and distinctive style combines an infusion of dark and industrial elements into
trance while staying true to the roots of Goa and its ancient transcendental essence.

Info & Bookings | Facebook | Instagram | Soundcloud | Mixcloud
.

___________________



Website | Fanbridge | Instagram | Facebook | Soundcloud | Psylicious Radio