2012.03.12 Deep Space COSMO (Cosmodelica, Classic Album Sundays, *******es Brew) & Francois K
cgmusicnyc
Deep Space : March 12th : COSMO (Cosmodelica, Classic Album Sundays, Bitches Brew)
François K.: Cielo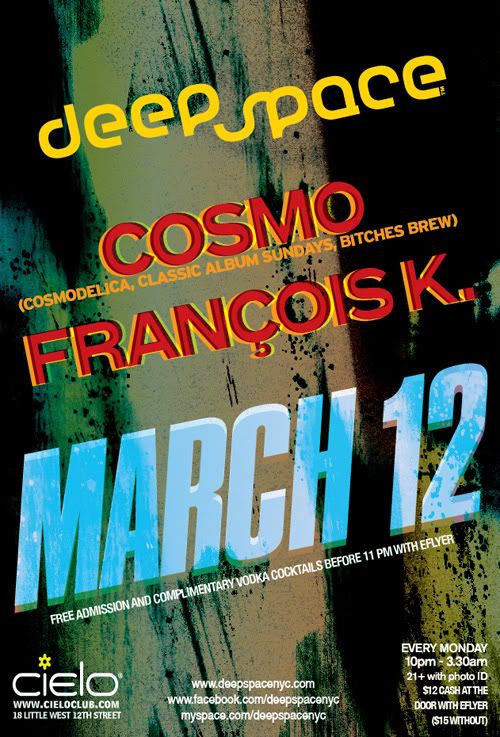 Deep Space is an adventure into future dub, spacey vibes, and abstract grooves.
It's the kind of event where sounds of all origins are played, not limited to one particular format but always sharing this common link of dub, whether improvised live at the mixing console or played from original recordings.

We have NO dress code - just an OPEN mind

March 12*
COSMO (Cosmodelica, Classic Album Sundays, Bitches Brew)
François K.

*FREE ADMISSION AND COMPLIMENTARY VODKA COCKTAILS BEFORE 11PM WITH EFLYER

To get free admission, join DEEP SPACE SELECTOR, by sending an email to selector@deepspacenyc.com.

When you receive our weekly eflyer, Deep Space Selector, simply print out flyer for free admission to our party before 11pm on most Mondays.
Selector members also receive discounts to special events, win tickets and music, and generally get to fly in our spaceship with more leg room.

Cielo, 18 Little W. 12th Street, NYC
between Washington St. and 9th Ave
A C E 1 9 2 or 3 at 14th St; L at 8th Ave

10pm – 3:30am
$15 General Admission
21+ with photo ID


NEW! Deep Space videos on YouTube:
www.youtube.com/deepspacevideos

Join our Deep Space Fan Page on Facebook:
www.facebook.com/pages/New-York-NY/...ace/38308587559

Deep Space:
www.deepspacenyc.com

Deep Space on MySpace:
www.myspace.com/deepspacenyc

Wave Music:
http://www.wavemusic.com/


UPCOMING DATES:
March 19*
m50
François K.