Custom TA Wristbands for LoveFest?
View this Thread in Original format
in2muzikk
Ever gone to a TA meetup at a big event and wondered wtf, how do I know who the TA's are here? So I brainstormed, and came up with the idea of permanent TA forehead tattoos! :nervous:

Srsly though...

We could order some TRANCEADDICT silicone wristbands (group order) and then hand them out at the meetups (or beforehand at the clubs). I found this company that prints them with no minimum order, but the larger the order, the cheaper they get. 30-59 bands would be $1.85 each, or 60-119 would be $1.79 each for example. Here's a picture of the blue/white (TA colors) band: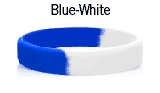 and here's an example debossed with TRANCEADDICT (text is same color as band):

http://www.wristbandsnow.com/?g=des...CFRm9hgodBg4NOQ

Another idea would be to order (individually) the "ONE" wristbands http://store.one.org/whitebands.aspx. The proceeds would go to the ONE campaign, a charity with the goal of eliminating world poverty. The ONE wristbands are $1 each, but they wouldn't be TA custom bands.

If enough of us are together wearing these wristbands, then we're easier to find as a group and they're also cheap TranceAddict fashion statements that would last for years! :D If there's any interest in the custom bands, let me know...would take about 5 business days plus a few days for shipping, so probably best to place any order by Sept. 10th.

I could take smaller orders, say $9.25 min for 5 bands via Paypal, then place one big order on Sept. 10th for however many we come up with. Then pick them up at the TA Metreon meetup or I could probably also mail them out beforehand for a few extra bucks. Any leftover change (if the price per band goes down due to a larger order) will be donated to LoveFest SF (not looking to make any money on this here!)

All we need is 30 bands to get the custom bands for less than $2ea, and I'd put in the first $9.25 so we'd almost be there. No orders taken after Sun 9/9 and I'd submit our order the next day. If we don't get orders for 30 bands by 9/9, I'll cancel and refund anything paid via PayPal. If you're in, let me know and I'll PM you the details.

Edit:

Important! You will receive a PM with the information below after telling me that you want to order. Note that advance payment is required, as this is a custom order. I cannot pay for 100 or more of these upfront and then risk collecting (or not) at LoveFest. Payment must be made by PayPal (or cash at one of the clubs if you see me before 9/9, but make sure & write your name & TA name on something so I can remember you paid)...I gotta keep my admin costs low on this, as I'm running a zero profit margin already. :)

So, please read carefully before asking for them. I cannot put your order in if I haven't received payment by 9/9. If you already asked for some and can't do this, just PM me and I'll cancel your order with no further obligation. Hope everyone understands.

=====================================================================

Thanks for wearing TRANCE ADDICT on your sleeve! Hereís how to order your TA wristbands:

Please reply back to this PM with the following info:

=======================================

$1.85 x ____ (min 5) = _____

Est. postage (only if you want them mailed instead of picking them up): $3 *

* USPS has all kinds of new regulations about letters that arenít standard-size, but I think this should cover it. If itís more, Iíll let you know soon as I can get one of the bubble pack envelopes weighed.

Total _______

Paypal the above amount to: _________ (actual email address provided in PM only, otherwise the spam bots will collect it from here).

Bring your PayPal receipt to the TA meetup or put your name as it appears on your ID here:

_________________

If I canít check your receipt or ID to my list at the meetup, then I wonít give out the order. Reprinting these in a small quantity costs a lot, so I need to make sure everyone gets theirs, no poachersÖ :)

Pickup is recommended, but if you want them mailed instead, put your name and mailing address below (Iíll mail soon as I receive them, but you may not get them until a few days before the LoveFest):



========================================


Minimum order is 5 TA wristbands @ $1.85ea, or $9.25. No problem ordering more in any quantity, just multiply the number you want by $1.85. If you donít need 5, Iím sure people at the meetup who didnít get them earlier will want them, and if you lose things like me then thereís some extra ones too!

Pickup:

At Metreon park TA meetup (10:30 a.m. Saturday), by the TA float before the parade starts, and/or after the parade ends in front of the museum immediately to the right after entering the Civic Center afterparty area. If you want them earlier and can come by the Chancellor hotel, I may be able to arrange a time to meet there as well. Just look for my backpack with one of the blue/white TA wristbands hanging from the zip.

Shouldnít be any problem meeting up there, but if for some reason we canít find each other then I will mail the bands out to you later after LoveFest (in that case just PM me, paypal me the postage, and I'll send them out).

See you at LoveFest SF!

=====================================================================
y2yen
this is a neat idea! im in
henryv
Paypall doesnt work with my account but im in to put in a few bucks!
in2muzikk
Great, looks like we will have enough for an order! pls check your PMs! :D
rizo
if you dont get enough for the custom ones, just get white ones and write TA on them :p
in2muzikk
quote:
Originally posted by rizo
if you dont get enough for the custom ones, just get white ones and write TA on them :p



Doh! Why didn't I think of that? :crazy:

Still gotta pay for shipping on the white ones though, so probably about the same cost...I still think we can do the custom ones though.

Oh yeah, even if we get the blue/whites, I don't want to discourage anyone from ordering some white ones from http://ONE.org. I think that trying to end world poverty is a noble (and ambitious) cause! :)
SimFox3
Put me in for three :D
in2muzikk
quote:
Originally posted by SimFox3
Put me in for three :D



Please read up, I've added some more specific details about how to order these.
y2yen
i'll paypal you tomorrow at work
SimFox3
What is the size of the bands? I'm a fat guy with tiny wrists ;-(