Tic Tac Trance #141 with Martin Mueller released on Soundcloud & Mixcloud!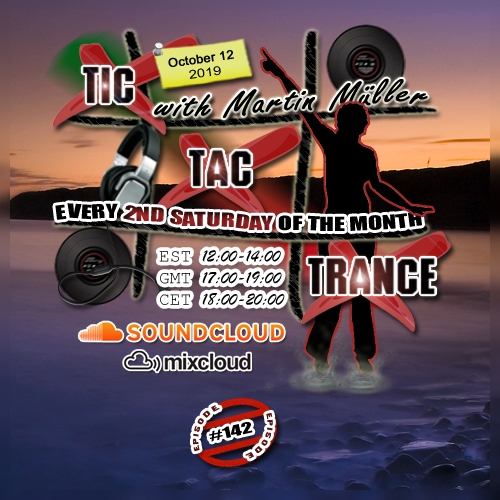 Tic Tac Trance #141 will be published on September 14 2019 on Soundcloud.com/TicTacTrance and Mixcloud.com/TicTacTrance for streaming.
My radioshow is more upfront than ever! With the new publishing way directly to the streaming portals I can use more up-to-date contents, can handle requests/wishes faster and will be even able to mix it on the same day!
So mark your calendar for September 14 2019, 18CET!




01. The Blizzard - Molecular (Club Mix) [Pure Trance]
02. Nat Monday - Inside (Extended Mix) [Perfecto]
03. Key4050 - Prometheus (Original Mix) [Kearnage]
04. Lost In Noise - The Cube (Extended Mix) [Nocturnal Animals Fusion]
05. Nitrous Oxide & Paul Miller - Stay (Extended Mix) [FSOE]
06. Darren Tate & Daniel Kandi - Luminous (Extended Mix) [Always Alive]
07. Giuseppe Ottaviani - Empty World (Extended Mix) [Black Hole]
08. Andrea Ribeca - Sagos (Extended Mix) [Nocturnal Animals Music]
09. Alex Di Stefano - Lions Rock (Extended Mix) [Skullduggery]
10. Jurgen Vries - The Theme (Binary Finary Extended Remix) [Armada Captivating]
11. Eddie Bitar - Another Creature (Extended) [Vandit]
12. Magnus & Costa Pantazis - The Proposal (Extended Mix) [FSOE]
13. Giuseppe Ottaviani - Soundbar (Extended Mix) [Black Hole]
14. Talla 2XLC - Frenetic (Extended Mix) [Nocturnal Animals Music]
15. Rapid Eye - Circa-Forever (Sean Tyas Extended Remix) [Armada Captivating]
16. Driftmoon & Susana - Because of You (Extended Mix) [Amsterdam Trance]
17. Casey Rasch - Forget About It (Extended) [Vandit]
18. Bottai - Nunc (Purple Haze Extended Edit) [Doorn]
19. OceanLab - Satellite (Ciaran McAuley Remix) [CDR]
20. Stargazers & Neev Kennedy - Walk Between Your Shadows (Extended Mix) [Uplift Recordings]
21. Jordan Suckley - Aztec Curse (Ashley Smith Remix) [Damaged]
22. M.I.K.E. Push - Intersection (Extended Mix) [FSOE]
23. Nick Callaghan - Feel The Rush (Extended Mix) [Afterdark]
24. Waio & Bryan Kearney - Futura (Will Rees Remix) [Kearnage]
25. Laura May - Nails (Extended Mix) [Outburst]
26. Commander Tom - Are Am Eye (Binary Finary Remix) [Noom Records]
27. Philippe El Sisi & Omar Sherif with Cari - Shine Through (Extended Mix) [FSOE]
28. Giuseppe Ottaviani - Raven (Extended Mix) [Black Hole]




The radioshow is available at following locations:
-> Soundcloud.com/TicTacTrance (Stream)
-> Mixcloud.com/TicTacTrance (Stream)

___________________
Tic Tac Trance airs every 2nd Saturday of the month. 18-20 CET / 17-19 GMT / 12-14 EST, available on Soundcloud and Mixcloud.
Next show: November 9, 2019