quote: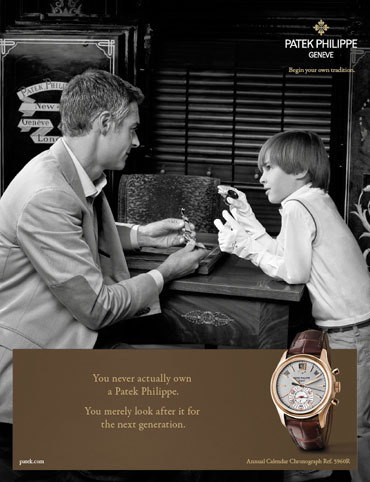 Want to go buy a $10000 watch? "In 2009-14? Hell yeah, let me get my coat."

Watches have the same problem diamond jewelry has; it better be beautiful enough to keep forever, because if you try and sell it you'll discover there is no secondary market for it. No one wants the necklace your ex had waiting for you when you got back from Cozumel. "I've been doing a lot of thinking," he says, "about how easy it would be for you to get all the penis you want. Let's get married and make sure neither of us are ever happy. No, no, moving closer to your parents doesn't sound like a bad idea." Turning it into an heirloom keeps it out of the market and the supply stays regulated by the manufacturers, which I think is collusion but I'm no lawyer.

These ads can be seen in whatever rich people use to relax on Sunday afternoons, e.g. The Economist.

This is a brilliant campaign, for technical and artistic reasons. What is the brand that it conveys? Heirloom quality.

The ads use black and white photos: we've been around for a long time. Even the advertising campaign self-referentially broadcasts this-- it has been the same since 1996, i.e. longer than a 40 year old has been in the market for an expensive watch to notice it wasn't always thus, reinforcing the longevity of the brand.

I know you probably figure this ad isn't for you because you're not a railroad baron or a Rothschild, but ask yourself a question: have you seen this ad? Then it's for you. Time to learn why they know you better than you know yourself.

I.

The demo for this ad isn't the Rothschilds or the 1%: they don't buy based on ads. And they don't need to be told what constitutes quality or authenticity, they can tell, that's what boarding school was for. Everyone else is going to need to be hit over the head with the semiotics of quality--

i.e. see an ad campaign about those signifiers. Oh, I get it now, this is a fancy watch.

The target demo is not the 1%; the target demo is the Aspirational 14%. They know they are supposed to like quality and goodness and etiquette and discretion, but no one ever taught them what those things look like, so when someone does point it out to them they will go all in. Hence: anything in Trading Up. And they don't care about the next generation. Not really. They don't want them to be eaten by zombies but anything past 2069 is of no consequence. What they do care about is how a product brands them, what it says about them now, now that time is running out. Can't afford to be subtle, which is the same thing as saying I'm willing to pay $10000 to get the message across. There's a difference between what the brand is and what the brand says about you. You'll pay 10x for the former and 100x for the latter.

Most products have quick, easy, memorable taglines, because most people are idiots. However, Patek Philippe's tag line is complicated and unmemorizable:

You never actually own a Patek Philippe. You merely take care of it for the next generation.

Which is the kind of tagline a person who wants to be a wealthy, complicated, precise man who doesn't fall for tag lines would fall for. The man in the photo is not a representation of the target demo; he is the impossible aspiration of the target demo. That explains how the kid can be in a sweater vest and not trying to murder his family.

...
http://thelastpsychiatrist.com/2011...future_lea.html