Re: BLKMARKET MEMBERSHIP & RESOLUTE: FREUDE AM TANZEN VS. OSLO DAYTIME EVENT
Advance tickets are almost sold out on http://www.residentadvisor.net/blkmarket at $20.

Get them before they sell out and the price goes up.

The location is brand new and going to be something very very special under a massive tent.

Monkey Maffia / Vera / Fede are all on schedule and arriving on time.

Maher Daniel will not be able to make it due to reasons beyond our control. Ostrich aka Nadir

Agha (Souvenir Plus) will be taking over for him on the decks for opening duties.


quote:
Originally posted by Graphikt
After the rain there is always sun. This past weekend even though it was hard to bear, it has taught us all a very valuable lesson, from which we will only come out stronger and with greater attitudes. After all "we are brothers and nothing can change that between us." To highlight this renewed beginning, Blkmarket Membership & ReSolute are joining forces to present a full day and night of fun accompanied by Monkey Maffia (freude am tanzen, Wighnomy Bros) extendedddd set, Fede (Oslo Records), Vera (Oslo records), Taimur & Fahad (Blkmarket membership) and an opening set by Maher Daniel (Souvenir Plus). This is scheduled for Saturday – DAY, April 24th. So mark your calendars and start preparing yourself for the proper kickoff for summer day parties!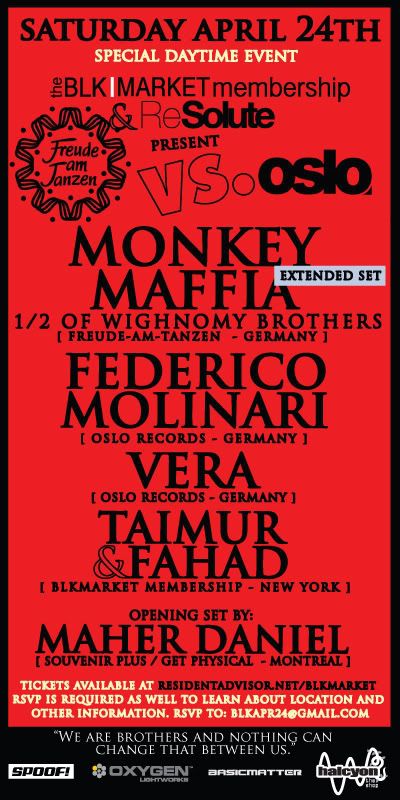 SATURDAY APRIL 24TH

BLKMARKET MEMBERSHIP & RESOLUTE pres: FREUDE-AM-TANZEN vs. OSLO

SPECIAL DAYTIME EVENT

Monkey Maffia [Freude-am-Tanzen]
(˝ of the ex-Wighnomy Brothers duo)

Fede{/b] [Oslo Records]

[b]Vera [Oslo Records]

Taimur & Fahad [Blkmarket Membership]

Opening set by:
Maher Daniel [Souvenir Plus / Get Physical]

2:00 pm - 4:00 am or longer.

Tickets available at residentadvisor.net/blkmarket

RSVP is required as well to learn about location & other information.

RSVP to: blkapr24@gmail.comLK

___________________
www.blkmarketmembership.com
www.halcyonline.com
Last edited by Graphikt on Apr-23-2010 at 15:56