3.5 BLKMARKET MEMBERSHIP presents JUNCTION SM (Dandy Jack & Sonja Moonear)
JUNCTION SM is SONJA MOONEAR and DANDY JACK live/dj project based on a non-stop and improvised combination of sounds. This explosive combo manages a perfect mixture of DANDY JACKs sophisticated rhythms & sounds and SONJA MOONEARs fine records selection.

THE SHOW is a minimum 3 hours perfect mixture of DANDY JACKs live improvisation and SONJAs record selection. Jacks sets are routed through 2 channels of sonjas dj mixer in order to let her control the whole given sound. She can use his sounds as an additional source to her records, but also filter, cut or edit it with several effects. She pitches her records to Dandys live set.

The link between both of them and the public is the oxygen of their performance. Depending on the development of the night, Dandy Jack can reload new sets while Sonja is taking over the dance floor, or she slows down her inputs and let Jack performing solo. Out of this chemistry comes a wonderful tension that drives the night till the early hours.
Both actors inputs are generating such a generous and various sound flow that it gives the impression of a perpetual live production. You will never recognize any pieces, or have any repetition between the sets. The frontier between live sets and records just vanishes. The audience gets lost in trying to know who does what and its more fun for everybody.

DANDY JACK is a live musician well-known through his own productions (rather interesting, perlon, telegraph..), remixes (contexterrior, crosstownrebel, roman photo..), multiple projects (sieg über die sonne, gon (with atom heart), amp (with pete namlook), ric y martin (with ricardo villalobos), carabina 30 :30 (with luciano)), as well as through his amazing energetic live appearances.

SONJA MOONEAR is an independant and active dj from the swiss mountains, party promoter and an occasional live performer that recently teamed up with french label KARAT for her own productions.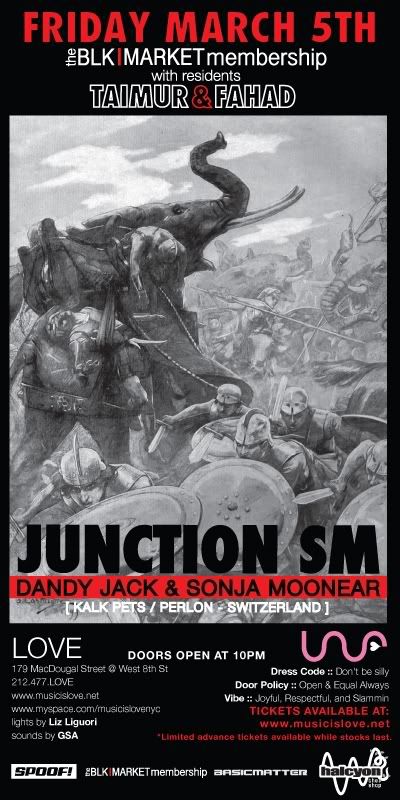 BLKMARKET MEMBERSHIP with residents TAIMUR & FAHAD present:

JUNCTION SM [DANDY JACK live & SONJA MOONEAR] - kalk pets / perlon - switzerland

$10 Advance Tickets Available At: www.musicislove.net
*Limited reduced advance tickets available while stocks last.

$15 before midnight | $20 after midnight

DOORS OPEN AT 10PM SHARP
* Please ensure that you arrive early as we are expecting a full capacity

10PM - 5AM

LOVE
179 MacDougal Street @ West 8th St
www.musicislove.net
www.myspace.com/musicislovenyc
lights by Liz Ligouri
sounds by GSA

Dress Code:: Dont be Silly
Door Policy:: Open and Equal Always
Vibe:: Joyful, Respectful, and Slammin

___________________
www.blkmarketmembership.com
www.halcyonline.com