Pacha NYC Presents Benny Benassi - Celebrating His New Residency on Jan. 2, 2010
Pacha NYC presents the start of something great with Benny Benassi on Saturday, January 2nd, 2010. Hot off appearing on the infamous DJ Hero game from Activision, Benny is ready to kick off his Pacha Residency with a post-NYE bang! Supporting Benny on this special night is the internationally acclaimed dance act The Japanese Popstars.

Benny Benassi started DJing when he was still at school and has been producing with his cousin Alle Benassi for about ten years. His first track "I Feel So Fine" went to #1 in the UK club charts in 2001. The following year, Benny came up with "Satisfaction" and in one fell swoop ravaged the dance floors and dominated sales charts round the world. The album Hypnotica followed. The Benassi's have also remixed artists such as Outkast, David Guetta, Moby, Goldfrapp, Paul Oakenfold, Faithless and Public Enemy. In 2008 Benny won a Grammy Award for his remix of Public Enemy's "Bring the Noise". Aside from his DJing and studio work, Benny talent scouts for his own label, Pump-kin, which is designed to create space for young DJs and producers of electronic club music.

Currently hot off a huge feature in Activision's new game, DJ Hero and a new release "Electro Sixteen" featuring the legendary Iggy Pop, Benny shows no signs of slowing down in 2010. Benny was also recently voted #26 in the DJ Mag Top 100 DJ's Poll, up 13 slots from last year.

The Japanese Popstars are riding a wave of great live gigs, major festival bookings, and media praise off the back of their amazing energy driven live shows and their critically acclaimed debut album 'We Just Are'. Native to Northern Ireland! The Japanese Popstars have built up a sizable live following before releasing their first major single - some might even say cultish, judging affairs, with an energy that crackles with each beat, chord, and keyboard stab. However, they are not an indie rave outfit, or any other sub-sub-sub genre. Theirs is big room electronic music built for festivals and stadiums. The Japanese Popstars - back to the future dance music for today, tomorrow, and forever, and it's coming to a field near you very soon.

Listen to Benny Benassi Radio here.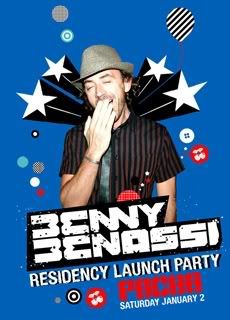 Saturday, January 2nd, 2010
Pacha NYC presents

BENNY BENASSI
Celebrating the launch of his new
Pacha NYC Residency!

Featuring Special guests
Japanese Pop Stars

Pacha NYC
618 West 46th Street
New York City
Doors at 10pm
$20 Advance Tickets while supplies last @ www.pachanyc.com
Info & Table Reservations 212.209.7500

www.PachaNYC.com
www.bennybenassi.com
www.facebook.com/realbennybenassi

Pacha NYC Upcoming Dates
December 31 Pacha New Years 2010-Victor Calderone, Paco Osuna, Richie Santana, Peter Bailey
January 1 Jonathan Peters - First Party of the Year
January 2 Benny Benassi - Residency Launch Party
January 8 Bob Sinclar - Born in 69 World Tour
January 9 Made in Brazil

___________________
DANCE LOCAL THINK GLOBAL
Home || Facebook || Twitter