SATURDAY MARCH 20TH

BLKMARKET MEMBERSHIP presents CADENZA LABEL SHOWCASE

Blkmarket Membership welcomes Luciano's Cadenza label back to New York on Saturday March 20, 2010 for a very special showcase. Reboot, Robert Dietz and Serafin (who is also 1/2 of Mountain People) are not new to Blkmarket Membership. All have played previously for us but for this event, we have brought all of them together for a proper bash!

Cadenza is one of the leading labels in the industry and it's roster boasts quite an A-list of talent. It's a label which pops up in our record bags on many occasions. From older records, to even some of the most recent ones, It's a label that brings a lot of feeling to the dance floor.

This past August, we brought Reboot for his debut live perfomance in NY, and it was one of the most anticipated shows that people had been waiting to see in this city. Reboot is a very talented individual with a very busy and packed touring schedule due to him being so in demand at the moment. We are pleased he is able to stop over to play for us once again. He has become an artist to watch, both for his live shows as well as his marathon DJ sets. We have asked him to come and DJ for us on this leg of his tour.

Robert Dietz has blown up since his Cecille recording days. His tracks and remixes on labels such as Cecille, Deep Vibes, Running Back and Air London have been canned consistently by Villalobos, Richie Hawtin, Sven Vath and Luciano just to name a few. In our eyes, he is an amazing DJ who knows how to read a crowd well.

Remember the name Serafin when the Cadenza label first started? Its been a while since he has used that moniker as over the last few years, he has teamed up with Rozzo (aka Peter Dildo) to form Mountain People. They have also launched their self titled record label that is all about the deep, loopy, summery grooves. Almost all the tracks have been in heavy rotation in our DJ sets and its definitely also one of our favorite labels. This past December Mountain People debuted at our party and on March 20th we debut Serafin on his own.

We would like to also mention that we have something very special lined up for you all at this party.

Last but not least, we have our good friend Memek starting things up for the night. He also just bought some hot blue pants for WMC to match his multi colored line of v-neck shirts so get ready!

Residents Taimur & Fahad complete the lineup.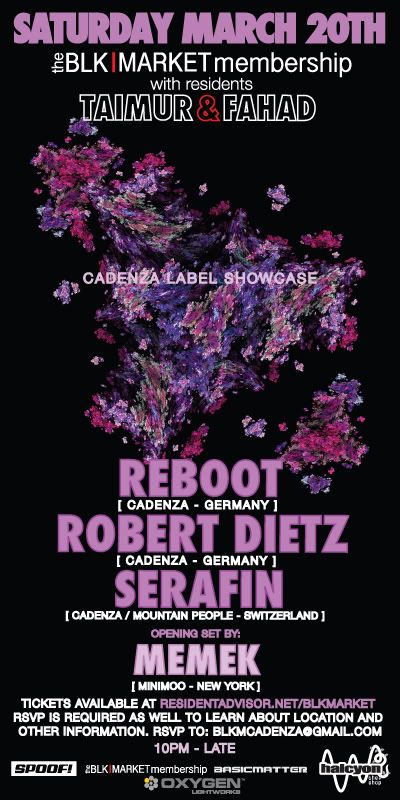 Tickets available at http://www.residentadvisor.net/blkmarket
*Limited discounted tickets available while stocks last!

RSVP IS REQUIRED AS WELL TO LEARN ABOUT LOCATION AND OTHER INFORMATION.

RSVP TO: BLKMCADENZA@GMAIL.COM

10PM - VERY LATE

___________________
www.blkmarketmembership.com
www.halcyonline.com