Cielo : February 2010 News
Now that awards season is in full swing, we'd like to share our very own accolades. The Club World Awards have nominated Cielo in the categories of Best Club, Best Party: Dance.Here.Now., and Best Resident DJ: Francois K, for his long-running Deep Space Monday nights. On the global stage, the International Dance Music Awards have nominated Cielo for Best U.S. Club and Best Soundsystem: Funktion One, following a sound system upgrade this past fall. Voting for the IDMAs ends Friday, February 26, 2010 with the winners to be anounced at a ceremony at WMC 2010 in Miami. Make your vote count here.

Cielo's recent benefit, Song, Dance & Love for Haiti brought together many wonderful artists who donated their time and music for a special Sunday 12-hour party that raised $10,000 for Doctors Without Borders in Haiti. Thanks to everyone for participating and sharing the love and the music.

If you think of musical eclecticism one name immediately comes to mind, Gilles Peterson. In a career now spanning three decades his contagious passion and love for the modern jazz art form has helped expose the genre to a whole new generation, blending the past with the best of future, and a variety of complimentary styles in the process. In so doing he's focused the emphasis away from the home and back into the club, truly defining avant-garde. Peterson's frequent globetrotting DJing gigs have cemented his stature as a trendsetter, while each week he further spreads his influence on music listeners around the world through his acclaimed and widely syndicated Worldwide radio show on BBC Radio 1. The obsessive record collector also steered such groundbreaking labels as Acid Jazz, Talkin' Loud, and most recently, Brownswood, helping to launch and shape the careers of such innovative artists as Jamiroquai, Brand New Heavies, Roni Size and most recently, Erykah Badu. Show some love on Monday 1st February as Cielo and Francois K's Deep Space welcomes a true revolutionary, Gilles Peterson.

Immerse has been created by the minds behind ReSolute to bring the most innovative, forward-thinking and exciting new house and techno artists to New York's clubs. Thursday, 4th is no different as Cielo and Immerse plays host to two DJs who perfectly tick all of those boxes: Oliver Huntemann and Sleepy & Boo. Whilst hordes of German producers and DJs set their sat-navs for Berlin, Oliver Huntemann's epicenter is Hamburg, home also to his new Ideal Audio imprint that recently released to wide acclaim his third album, 'H-3'. It's the latest chapter in a recording career spanning some 15-years that's also seen him remix a veritable array of electronica artists including Underworld, Chemical Brothers and Depeche Mode. Meanwhile, from their home base in New York, Sleepy & Boo have become preeminent players in the Big Apple's subterranean dance scene. Resident DJs and the force behind Basic NYC, their celebrated and award winning Saturday night throw-down, they regularly played alongside the world's DJs elite – from Kaskade to Jeff Mills – similarly their musical influences reflect a equally diverse and eclectic array of styles that's guaranteed to get any crown jumping. A very special night looks assured.

On Friday 5th Turntables On The Hudson mark their monthly Cielo party with another adventurous musical mix built on a foundation of funk, fun and family values. Fast approaching their twelfth year of hosting some of the NYC's celebrated parties, regulars Sabo & Wiseacre, welcomes Bruce T as special guest in February. Know to many as one the most authoritative voices in the city, Bruce Tantum, has been a longtime New York dance-floor fixture since the late '70s, "back when niteries such as Max's Kansas City and Studio 54 still allowed prepubescent young lads thought their doors," he gleefully recalls. For the last 13-years, he's also been spending his days as Time Out NY's clubs editor, a post from which his handlers allow him spout off about the music and the world he loves. While behind the decks Bruce plays the music that's inspired him for the last three decades and perfectly fits into Turntables On The Hudson's expansive aural ethos and soundscape.

Roger Sanchez, one of the hardest working DJs on the circuit, hosts his Secret Soul Sessions on Thursday 11th. The world renowned, Grammy Award winner enjoyed yet another unprecedented year in 2009 with his Stealth label's best Ibiza season yet at their new Amnesia home, which further fuelled his high placing in DJ magazine's Top 100 DJ Poll for the umpteenth year running. With his brand new single, '2Gether', set to take Miami and the Winter Music Conference by storm, you'll hear it first at Cielo along with other cuts from his upcoming artist album that also feature collaborations with Seal, Terri B and GTO amongst others.

Prolific is putting it mildly when talking about the recording output of Berliner Alex Krüger, with close to 150 releases to his name in the last decade alone; Tigerskin and Dub Taylor perhaps his best known with some 50 singles released under the two guises. Along with Cielo's Willie Graff, the inexhaustible German producer will showcase his versatile of blend techno, dub, and electronica on Friday 12th as special guest of Playtime.

Chris Lake is recognized from Miami to Middlesbrough, Toronto to Tokyo and Sydney to Shanghai as one of the most exciting, forward-thinking and cutting edge producers on the electronica scene. But it's the lower west side of Manhattan for a very alternative Valentine's night on Sunday 14th that's his next port of call. His innovative productions continue to receive wave after wave of support from luminaries that include Sasha, John Digweed, Sander Kleinenberg and Carl Cox, whilst Pete Tong leads the way in championing his unique sound, hailing him as the "best thing to come out of Scotland since Mylo." Although if we're honest, Chris considers himself English and says he's not technically Scottish! One thing that's not open for debate is the man's fine production credentials - his ability to create tracks that fuse elements of house, electro and techno finding a very successful niche that also forms the foundations for his equally acclaimed DJ sets.

Francois K's Monday night soirée welcomes not one but two guests on February 15th, as Deep Space extends a transatlantic welcome to Dutchman Martijn Deijkers and from across the river, Hoboken's T Tauri. Deijkers' particular strand of bass defies genres or adjectives - to his fans and admirers it's known simply as "Martyn Music". With a sound that wriggles shy of convention it became a cornerstone for dub-step in '09, while 'Great Lengths', his debut album, became one of the most stylistically fierce long players the scene has produced to date. Fitting that his latest compilation, 'Fabric 50', celebrates the groundbreaking album series' half century with his equally innovative selection. Conversely T Tauri is best known for his soul-etched productions and studio work with Cielo's Nicolas Matar. The New Jersey DJ first came to our attention in 1996 as the mastermind behind the chilled classic, 'Joy To The World' that was even honored by John Digweed as one of his all-time favorites. It's a fitting homage to the dubbed out sound masterminded by FK in the early '80s. Like King Tubby-meets-The Orb-meets-DJ Shadow, this promises to be a slice of downtempo heaven.

With a handful of accolades to his name since bursting onto the scene in the late '90s, D.Ramirez is also said to be the man after whom the phrase "electro-house" was coined. Awarded Best Remix and Best Producer in 2007 by DJ Magazine having been knighted a Player Of The Year in iDJ the year prior, his remix of Bodyrox 'Yeah Yeah' then went on to even score him an Ivor Novello nomination. No mean feat as a dance producer. Whether he's hidden behind devilish disguises such as the Lisa Marie Experience, Cordial, Finger Fest and Rambo, or performed as the man you know best as D.Ramirez, Dean Marriot has achieved more than an entire legion of lesser DJs. Hear for yourself on Thursday 25th at the Made Event where he'll move gracefully from deliciously deep-house to grunting, shunting techno, and of course electro-house, proving his talents as a DJ are just as sharp as they are in the studio. It's a 360° trip around his dark and dangerous world where the calm and serene can become an ugly affair at the flip of a switch. Enjoy the trip!

We round out February with Willie Graff's scrumptious Paradizo on Saturday 27th. Like a comfortable chair, our resident knows how to make you feel relaxed and never wanting to leave the cozy confines of the dancefloor. Incidentally a year on from '123 Yeah Yeah', Willie's acclaimed debut single with Tuccillo, the duo return once more to the Freerange label for the equally seductive 'Give You Up'. Using a riff lifted from 'Just Can't Give You Up', Mystic Merlin's jazz-funk standard from three decades ago, the partnership is an amazingly simple one with the subtle vocal underpinned with the funky '80s groove. Like his Paradizo night this has enough warmth to melt away the winter snows.

Don't forget Wednesday's in the Meatpacking District belongs to Roots, Cielo's spiritual home for Louie Vega and Kevin Hedge's acclaimed night of quality soulful house, samba-kissed beats, and jazz-infused grooves. With the Miami Winter Music Conference now just a few weeks away you can be sure the duo will be road-testing some of the hottest new promos and exclusives at Roots ahead of the trip south.

Talking of South Beach and the world famous WMC, Cielo will be hosting a party in Miami on Wednesday March 24th at The Vagabond (30 NE 14th St.) with Willie Graff and Nicolas Matar joined by some very special guests. Check back soon for more details in the March newsletter.… See you on the dancefloor!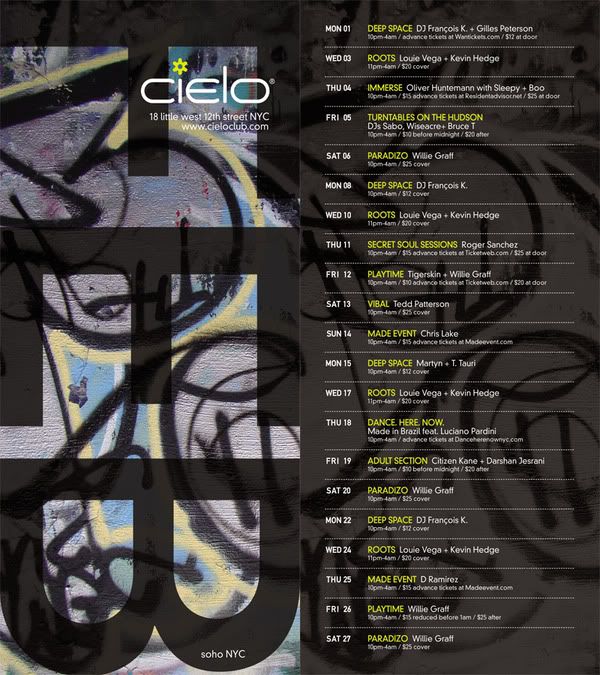 www.cieloclub.com

___________________
DANCE LOCAL THINK GLOBAL
Home || Facebook || Twitter