Pacha NYC New Years 2010 : Victor Calderone & Paco Osuna
Ring in 2010 in style, just footsteps away from the global epicenter of New Year's Eve with NYC's biggest & boldest New Year's Eve celebration of the decade at Pacha NYC. On Thursday, December 31, 2009 the country's premier superclub boasts a 24 hour marathon event featuring a massive lineup of internationally renowned talent. Be there as we EVOLVE into 2010 with NYC legend VICTOR CALDERONE and Spanish techno king PACO OSUNA along with Mind Control's RICHIE SANTANA and PETER BAILEY.

Want to get going early and shake off 2009 to your favorite songs ever – all mashed together in unexpected and booty-shaking ways? Straight from France, DJ Getdown: A turntablist master who loves New York almost as much as you do. He'll scratch, cut, drop, slice and dice hip-hop, house, pop, rock and everything in between, whipping up the party in hands-in-the-air style and keeping you and yours on the floor straight through the ball drop. Alongside Getdown: New York's own DJ Klutch, Crooklyn Clan master-producer and Deko Lounge favorite.

As the hour gets later the need for beats increases. Pacha residents Richie Santana & Peter Bailey are happy to oblige as they crank up the music of Mind Control to levels you can't deny. Their sexy, sweaty tribal makes way for another overseas superstar: Spanish techno Paco Osuna, a veteran of the first wave of acid house now known for his three-deck sets of dark synth rhythm. Meanwhile, upstairs in Pachita, a squadron of South American DJ talent headed up by Mario Calegari heat things up all night long.

Night turns into day and 2010 sees its first sunrise. And inside Pacha, the party begins again, with the man himself, Victor Calderone at the helm. "Techno" doesn't even being to describe Calderone's masterful style, which brings together this New York native's entire musical history. Big-room nightclubbing doesn't get any bigger than this.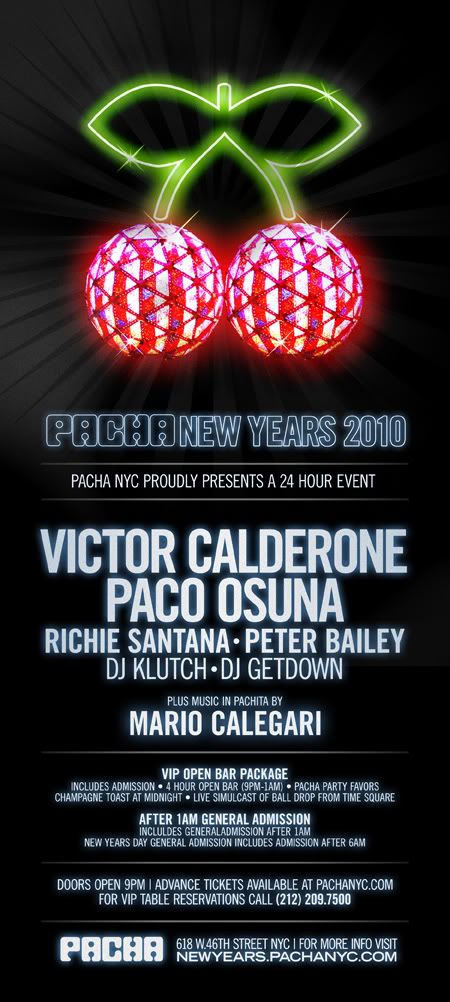 Thursday, December 31, 2009
Pacha NYC proudly presents
A 24 Hour Event
Pacha NYC New Years 2010

VICTOR CALDERONE
PACO OSUNA
Richie Santana & Peter Bailey
DJ Klutch & DJ Getdown

Plus Music In Pachita By
Mario Calegari

Check out the Pacha NYC New Year's mini site for more info:
newyears.pachanyc.com

Pacha NYC
618 West 46th Street
New York City
9PM – 9PM (24 hours)
Age: 21+
Info: 212.209.7500 | info@pachanyc.com
$100 VIP Open Bar Package
$50 General Admission (Before 1AM)
$60 General Admission (New Year's Day)
Additional VIP Services available at Newyears.PachaNYC.com

www.PachaNYC.com
www.victorcalderone.com
www.myspace.com/pacoosuna
www.myspace.com/mindcontrolnyc
www.djgetdown.com
www.myspace.com/djsalklutch

Pacha NYC Upcoming Dates
December 04 Funkagenda & Exacta
December 05 Chriss Vargas
December 11 Mauro Picotto
December 12 Erick Morillo & Steve Angello – Pacha 4 Year Anniversary
December 13 Frankie Knuckles & Danny Krivit
December 18 Fedde Le Grand
December 25 Chus' Birthday Bash
December 26 Sander Kleinenberg – This Is .. My Birthday
December 31 Pacha New Years 2010 – Victor Calderone, Paco Osuna, Richie Santana, Peter Bailey

January 02 Benny Benassi - Residency Launch Party
January 08 Bob Sinclar – Born in 69 Tour

___________________
DANCE LOCAL THINK GLOBAL
Home || Facebook || Twitter