Saturday Feb 6th!




DJ Dan's sets have always been legendary, especially when he comes to Ruby Skye. With opening set by DJ Atimatik there is no doubt that a certain magic will be in the air!

DJ Dan has been on the cutting edge of forward thinking dance tracks for over 18 years. Born out of the early 1990s Los Angeles rave scene, his first big notoriety came with the club No-DOz, which set a new standard for LA after-hours parties. In 1996, Dan inspired the breakbeat scene with his first party rocker, "Loose Caboose", but his big breakthrough came as a producer on the remix of Orgy's cover of "Blue Monday." In 1999, Dan exploded onto the club scene with "That Zipper Track" and the hard and funky "Needle Damage," which resulted in a world tour with Carl Cox. Since then he became Top 5 DJ in the World (#1 out of the HOUSE DJs) and is currently doing remix work for World renowned artists as Lady Gaga and Madonna. With a carefree and energetic style, DJ Dan creates funky, bumpy sounds with fat bass that defines the best things about house music. As one of the pioneers of the west coast explosion throughout the 90s to the present day wave of electro and indie dance, DJ Dan continues to push the envelope.

Atimatik (pronounced like "autimatic") started his music career as bassist for a SF Bay Area punk band. During that time, he was blown away by SF's underground electronic music scene, grabbing a pair of decks and grinding away for the past 14 years since. Atimatik has been on the line ups of the best-of-the-best West Coast parties, staying true to his unique sound. Currently in the studio working on his own releases, he's garnering the attention of top DJs and talent agencies alike. His unprecedented sound is catchy with raw, heavy basslines blended over house, electro & breaks.

This event is expected to JUMP, so be there with us!



___________________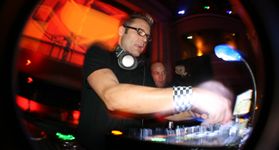 myspace.com/atimatik
facebook.com/atimatik
twitter.com/atimatik
youtube.com/atimatik
soundcloud.com/atimatik