2012.11.30 [LA] Insomniac presents AWAKENING ft. Sied van Riel @ Exchange LA
Friday, November 30th: Insomniac & EXLA present SIED VAN RIEL @ AWAKENING

TICKETS: FLA.VOR.US
Please text 805-390-1076 or email Malia@ExchangeLA.com for the best deal on tickets, guestlist & table reservations.


*TOYS for TRANCE*
Bring an unwrapped toy valued at $10+ for FREE entry before 11pm!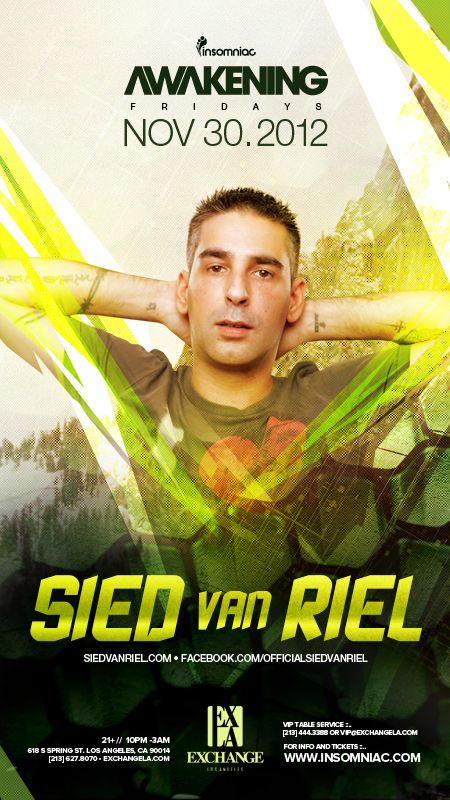 Sied van Riel | www.siedvanriel.com


Insomniac Events & Exchange LA present AWAKENING Fridays & INCEPTION Saturdays - featuring the best Trance & Electronic Dance Music DJs and performers from around the world every weekend!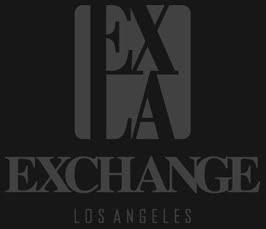 AWAKENING Fridays / INCEPTION Saturdays @ EXCHANGE LA | FB | Twitter
618 S. Spring St. | Los Angeles, CA 90014
Doors Open: 10:00 PM | Doors Close: 3:00 AM | 21+

Venue Highlights:
• Exchange LA is located in the Historic Core of Downtown LA
• Colossal venue spanning four stories and 25,000+ square feet
• Voted About.com "Best Dance Club in Los Angeles"
• Funktion-One Res. III sound system
• Smart lighting by SJ Lighting
• 200 square foot LED screen display featuring over 1.25 million bulbs
• Birthday specials and bottle service available
• Convenient/affordable valet or self parking

Dress Code: No baggy clothing, shorts, flip flops or baseball caps please

Questions | Guestlist | Tickets | Birthdays | Bottle Service - Contact: Malia@ExchangeLA.com

UPCOMING EVENTS:
11.30 SIED VAN RIEL @ AWAKENING (Tickets)
12.01 REBECCA & FIONA @ INCEPTION (Tickets)
12.07 FILO & PERI | ALEX METRIC @ AWAKENING (Tickets)
12.08 SULTAN & NED SHEPARD @ INCEPTION (Tickets)
12.14 KHOMHA | MR. PIT | GRUBE & HOVSEPIAN @ AWAKENING (Tickets)
12.15 DANNY AVILA | ADAM AUBURN @ INCEPTION (Tickets)
12.21 MAT ZO @ AWAKENING (Tickets)
12.22 DERRICK CARTER | MARK FARINA @ INCEPTION (Tickets)
12.28 ALY & FILA | JOHN O'CALLAGHAN @ AWAKENING (Tickets)
12.29 CHROMEO @ INCEPTION (Tickets)

___________________
Malia | AWAKENING Fridays / INCEPTION Saturdays @ EXCHANGE LA | Tickets

02.22 HEIDI | EWAN PEARSON @ INCEPTION (Tickets)
02.28 DON DIABLO @ AWAKENING (Tickets)
03.01 DANNY TENAGLIA @ INCEPTION (Tickets)
03.07 MAX GRAHAM @ AWAKENING (Tickets)
03.21 FEDDE LE GRAND @ AWAKENING (Tickets)
03.22 ADAM BEYER @ AWAKENING (Tickets)
04.06 MARKUS SCHULZ @ EXCHANGE LA (Tickets)
04.11 PAUL VAN DYK @ AWAKENING (Tickets)